Welcome to the master's and art teacher's education vårutställning with 104 graduates!
Curated by CuratorLab, one of Konstfack's freestanding courses for professionals.
Inspired by feminist writer Sara Ahmed's Queer Phenomenology, we invite the audience to a reorientation of the school's architectural, institutional and social premises. The entrance to Konstfack is changed for a week and a "Dialogical Space" is created for conversation, performativity and exchange in its center. The exhibition manifests a continuous negotiation between the individual, the collective and the institution. We have also commissioned texts by History and Theory of Art Professor, Marta Edling on Konstfack's place in Swedish school ecology as well as by curator Lisa Rosendahl about degree show issues.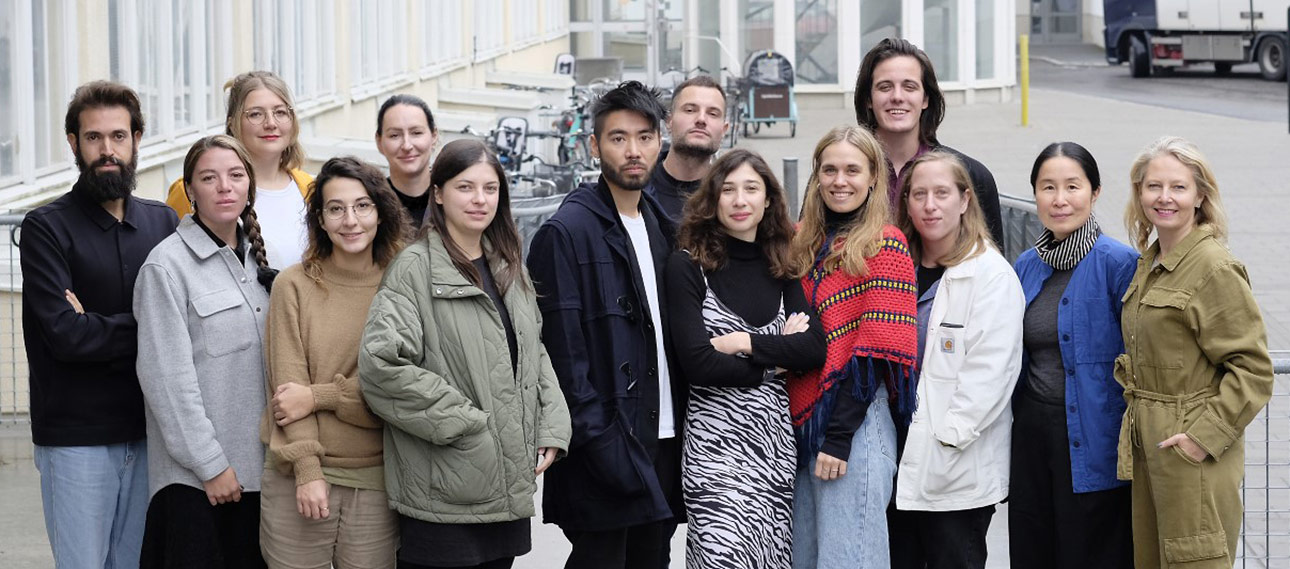 This year the master's and visual art teacher's exhibition is curated by CuratorLab, one of Konstfack's freestanding courses for professionals.
The CuratorLab 2021/22 students are: Chen Shuyu (Malmö), Una Mathiesen Gjerde (Oslo), Lovro Japundžić (Zagreb), Lauren Johnson (Stockholm/Elk Glade, Colorado), Matilda Kästel (Stockholm), Lina Louisa Krämer (Mainz/Berlin), Martin Ku (Berlin), Reyhaneh Mirjahani (Gothenburg/Tehran), Res (Stockholm/Brooklyn), Eleni Riga (Athens), Marta Świetlik (Warsaw), Krisztián Gábor Török (Budapest), under the guidance of Course Director Joanna Warsza (Berlin) and Head of Exhibitions Anne Klontz (Stockholm) and with the help of the Curatorial Assistant Vasco Forconi (Rome/Stockholm).
Photo: Bitte Andersson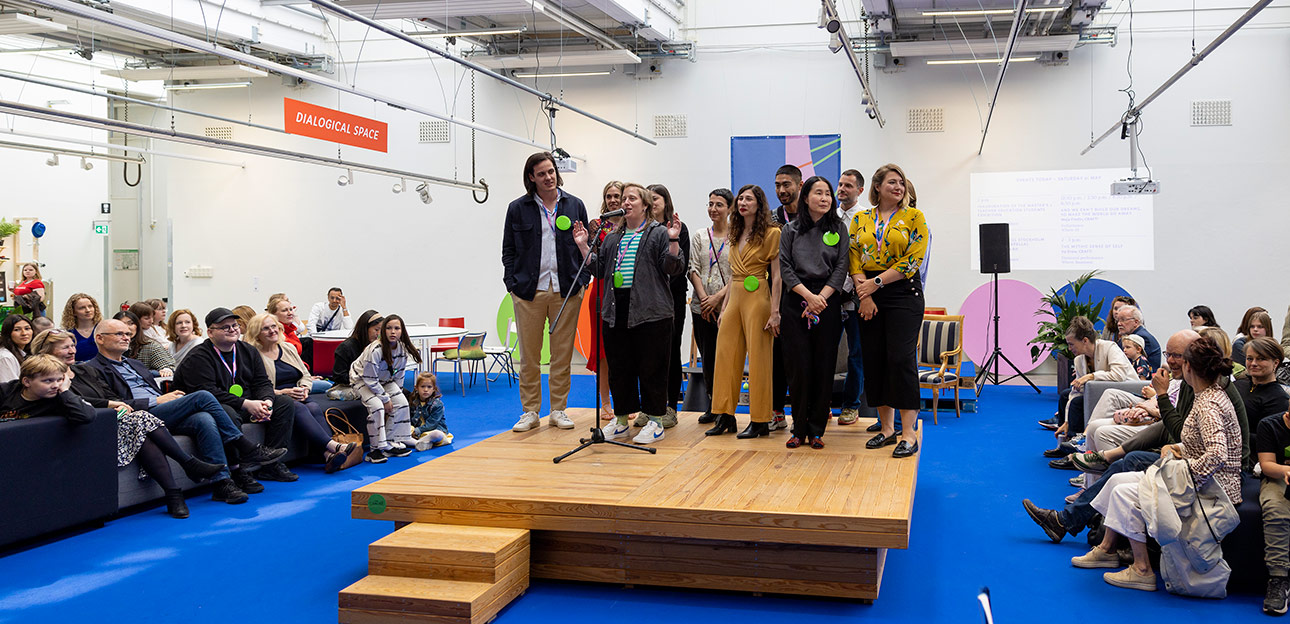 The dialogical space
The Dialogical Space sits at the core of the exhibition, offering a shared room for an ongoing conversation, performativity and exchange. Questions about finding new ways to (re)orient ourselves that challenge the hierarchies of power are asked with the ambition to create thoughts and strategies for care. The space hosts furniture from all five exhibiting departments, a students' Book Hive and an exhibition within the exhibition about Konstfack's spaces and feelings. Check the "Events" section to find the detailed schedule.
Photo: Gustav Karlsson Frost
Behind the Blue Curtain.
An exhibition inside an exhibition on spaces and feelings.
In the constant flow of before and after, studying, teaching or graduating, there is one thing in common among students and staff at Konstfack: the school and its legacy, its history and its blind spots. The exhibition is a contextual response to it, energizing the present, problematizing relations between spaces, feelings and archives.
Read the full text